Having good personal hygiene is an essential component of aging healthily. Good hygiene not only prevents infection and disease but can also increase seniors' confidence and self-esteem. Without proper elderly care in California, however, many seniors struggle with hygiene due to factors like impaired mobility and dampened senses.
Likewise, here's how caregivers in California can help older adults maintain good hygiene:
Practice proper handwashing.

Proper handwashing is still the simplest and most effective way to prevent infection. Seniors should wash their hands with mild soap and warm water to decrease the chance of contracting bacteria or germs. An alcohol-based sanitizer can also be used on the go when a sink is inaccessible.

Develop a hygiene routine.

A hygiene routine will motivate seniors to maintain good hygiene and make it easier to remember specific tasks like brushing their teeth. A provider of senior care in Campbell, California, can provide personal care assistance to ensure your senior loved one's hygiene needs are met.

Use helpful hygiene aids.

Hygiene aids are designed to make tasks like bathing and toileting easier. Examples include long-handled brushes, handheld showerheads, and shower chairs. Grab bars and non-slip mats can also be placed in the bathroom to increase balance and stability.

Arrange additional help.

If your senior loved one prefers to receive help from someone that's not a family member, home care is a good option. A caregiver can provide hygiene and grooming assistance with dignity and respect.
California Seniors Care (CSC) is your go-to agency for high-quality, reliable health care in California. We offer tailored services like personal care to look after our clients' needs. Get in touch with us to discuss your senior loved one's care needs.
Disclaimer
Blogs, content and other media uploaded online are for informational purposes only. Contents on this website should not be considered medical advice. Readers are strongly encouraged to visit their physician for health-related issues.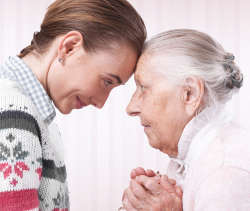 Latest posts by California Senior Care
(see all)