Specialized Home Care Services
For over 40 years, we have met our clients' unique needs. At California Seniors Care, we have developed relationships, provided stable continuous care, and remained above the rest because of our unmatched experience in planning and managing. We have highly trained, experienced caregivers who have never lost sight of our promise, to ensure quality home care in California.
As a company we vow to maintain your loved one's dignity with professionalism, and compassion and with caregivers that remain well above industry standards in training so that we can meet each individual's unique needs for care. CSC is flexible in providing hourly, nightly, and long-duration care for seniors and disabled adults.
Finding the Support and Care You Need
As we journey through life, a physical illness or disease can affect individuals at any age or stage of life. Care and support are essential and require a team effort.  Support from family, national organizations, and caregivers becomes a necessity to transition through these stages of life.
At CSC, we recognize the complexities and emotional challenges that come with these life changes. Our mission is to alleviate the stress and uncertainty that families and individuals face during these times. Our dedicated team of caregivers is equipped with the expertise and compassion to assist those navigating the intricacies of health issues.
Whether it's memory loss, Parkinson's disease, cancer, or other health concerns, our caregivers are trained to provide specialized care tailored to each individual's needs. Their commitment goes beyond just medical assistance; they aim to offer emotional support, ensuring peace of mind and security for the individual, and much-needed respite for the family.
One of the most poignant stages in life is the end-of-life phase. It's a universal experience, yet the journey towards it is unique for each individual. For many elderly individuals, this stage involves hospice care, a dedicated service to ensure comfort and dignity during their final moments. At CSC, our caregivers are adept at providing compassionate end-of-life care, ensuring that individuals on hospice receive the utmost comfort, respect, and care during these precious moments.
Our Specialized Care Services Include, But Are Not Limited to:
Hospice Care at Home: Palliative and hospice-related caregiving for terminally or chronically ill individuals is sensitive in nature and requires the utmost professionalism, experience, and grace. Our caregivers are committed to providing assistance focused on comfort, dignity, and empathy during this phase of a patient's health journey.
Dementia Care and Alzheimer's Care at Home: Understanding the intricacies of memory-related illness our team offers specialized care to the unique needs of individuals with dementia or Alzheimer's, ensuring their safety and well-being. They understand "Sundowners" which is a common late-day confusion caused by the biological clock and confusion and sleep-wake cycles that cause aggression and agitation. The use of redirection and caregiver training on both Alzheimer's and dementia ease the anxiety and inability to follow directions providing comfort and calmness.
Parkinson's Care at Home: Parkinson's disease presents its own set of challenges. Our caregivers are trained to assist with mobility, medication, and daily tasks, ensuring individuals with Parkinson's maintain a quality life at home.
Exceptional Specialized Care Services in Campbell, San Jose, Cupertino, Sunnyvale, Milpitas, Mountain View, Santa Clara, Palo Alto, Saratoga, Monterey Area, Peninsula, Bay Area, and Santa Clara County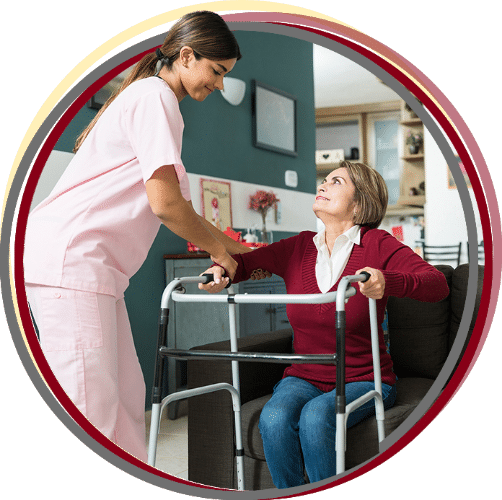 At California Seniors Care, our mission is to honor, care for, and provide quality home care in Campbell, California.
Stroke Rehab at Home: Recovery from a stroke can be a long journey. Recovery from surgery can be difficult even for our strongest people. Our caregivers can assist with rehabilitation exercises following discharge, assist with mobility, and assist with daily living needs, housekeeping, meal preparation, transportation to follow up appointments, ensuring a supportive recovery process.
Dialysis Safety Supervision: Dialysis requires precision and care. Our team will be reliable and there to escort to the weekly appointments, wait and understand the fatigue, and hunger that typically follow these treatments.
Sitter Care: For individuals who need companionship or supervision, our sitter care service provides a compassionate companion to ensure they are never alone, offering both safety, advocacy and added assurance they are getting the personal care and attention they deserve while recovering in a facility or rehabilitation setting.
At CSC, we believe in providing holistic care that addresses both the physical and emotional needs of individuals. Our specialized care services are designed to bring peace, comfort, and dignity to every stage of life.
As a trusted care agency, we offer a free consultation to assess your loved one's needs and create a personalized care plan that meets their specific requirements.