Dementia gradually diminishes a person's ability to communicate their needs and socialize. Hence, caring for a loved one with dementia poses several challenges. By improving the way you communicate and connect, you can better support your loved one with dementia.
As your go-to agency for reliable health care in California, here are a few tips to help improve communication with a loved one diagnosed with dementia:
Establish a positive mood for conversation.

Your body language and attitude communicate your thoughts stronger than words. To set a positive mood for conversation, use facial expressions and a pleasant tone of voice. Use physical touch to express affection when appropriate.

Gain your loved one's full attention.

Limit distractions and noise to gain your loved one's full attention. Turn off the TV or close the curtain before speaking. Identify yourself by name and relation and keep eye contact to keep your loved one focused.

State your message clearly.

When communicating a message, use simple words and sentences. Speak distinctly and in a reassuring tone. A provider of senior care in Campbell, California can use the same technique to provide support and assistance.

Break down activities into smaller steps.

Breaking down activities into smaller, actionable steps makes tasks like personal care in California easier to accomplish. Encourage your loved one to perform smaller steps and provide reminders when they forget. You can also provide assistance when they are no longer able to accomplish these steps on their own.
We at California Seniors Care (CSC) aim to provide comprehensive and compassionate elderly care in California. Hence, we offer dementia care to help look after your loved one. Reach out to us to learn more about our services.
Disclaimer
Blogs, content and other media uploaded online are for informational purposes only. Contents on this website should not be considered medical advice. Readers are strongly encouraged to visit their physician for health-related issues.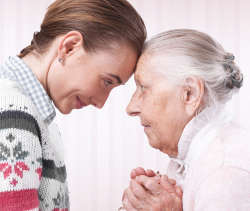 Latest posts by California Senior Care
(see all)